Pet dreams Bedding 3pc Set – Leopard Print
$88.13
Your pet will love this cozy hide-away!
Crate covers and bedding in designer leopard fabric
turn your metal dog crate into a comfortable bedroom!
Stylish crate covers reduce barking and stress.
Safety bumpers are 11-15 inches tall to help protect
against crate injuries the same way bumpers protect
a baby in a crib.
The dog bed/crate pad is reversible for double the use.

Fully Machine Washable.
Veterinarian approved and trainer recommended.
Prevents dog crate sores and entrapped paws.
Prevents permanent tooth damage caused by chewing on metal.
Stylish Dog Crate Covers reduce barking and stress.
Pet Dreams is the only company that makes quality, durable, quilted bumpers 11 to 15 high.
Size: 36 .
ON SALE.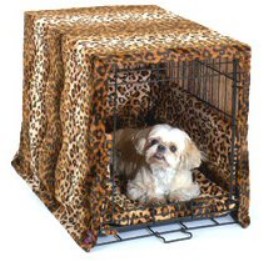 Sign Up For Our Exclusive Monthly Promotions & Sales
Note: We will never share or sell your personal information